While researching for her ITIL® Masters, Katrina spent time on-site observing the ground crew of a major Australian airline in Sydney, Australia.

One day, Katrina visited Bob, a long-serving and loyal employee in baggage handling.
As it happened, Bob had recently received an iPad from IT. "This device is great! It's really helped with my work."

After proudly showing off his newest acquisition, Bob carefully slipped the iPad into a large sandwich bag on his desk.

Spotting Katrina's confusion, Bob explained, "It rains on a lot in Sydney; the sandwich bag protects my iPad from getting wet."

In IT, we didn't think about

how Bob worked -- which required him to work outdoors, handling baggage, for most of the day. The iPad was great, but he had no way to protect the technology that was making his job easier.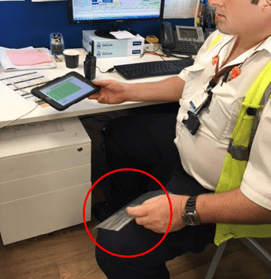 (Observe the "deluxe" monitor stand)
In IT, we tend to ask, 'What do you want?'

First, we're assuming people like Bob knows the latest technology offerings or can intuit a better way to work.

What we're not doing is spending time with Bob, observing his office and activity out on the tarmac and under the terminal, how he works, how technology can help automate his tasks. What he does before, during and after using IT services.

By Katrina asking Bob to show her where he works, how he tracks bags, records his time, identifies risks, reports incidents etc., she was able to glean some startling insights.

Bob and his team had an immaculate workspace, everything had its place and there was a place for everything. But were we designing technology that suited his way of working? Was it methodical, easy to use, accessible, and necessary? Did Bob need twenty buttons on his time tracking software, did he want an iPad without a waterproof cover?

A person like Bob doesn't like to complain or make a fuss. But how can you be sure you're providing the best and most workable solutions for the work experience that Bob is having -- and the work experience he could have?
---
About the Author
Katrina Macdermind
experience, she is a leading advisor to the Australian Government specialising in the development, and evaluation, of behaviour change strategies in areas that tackle some of society's most complex challenges (eg. domestic and family violence, cancer...