Propel and Brandwatch analysed more than three million tweets from and including Victorian Premier Daniel Andrews, comparing public sentiment and emotions from January 2019 to June 2021.
With federal and state bodies confirming their various roadmaps towards life out of lockdown, the need to cut through COVID fatigue with strong leadership has never been more urgent. Against this backdrop, Propel and Brandwatch have conducted the first Digital Government Leadership Report that highlights the crucial online role government leaders themselves play in shielding teams and policies from criticism and misinformation.

The analysis reveals how Premier Andrews successfully used Twitter to increase positive community sentiment during his state's darkest period during the 2020 lockdowns. In the Words of Roger Christie "Good leadership has never been more visible. Good leadership - built on competence, trust and transparency - has never been more critical." The data behind the Premier's digital leadership reveals an important truth for all: government leaders must stand up online.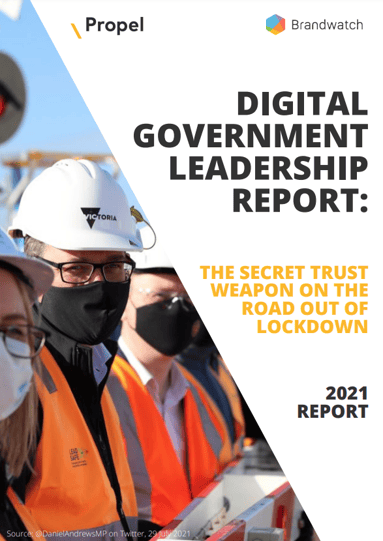 Click on the image above to download the report from Propel's website.

Here are three key insights:

1. Far from being a magnet for negativity during lockdown, Dan Andrews generated more positive responses than he did in the twelve months prior to the pandemic. Negative sentiment went from 40% of all comments in 2019 to 36% in 2020, and positive sentiment went from 12% to 20% over the same period.

2. Mentions of the Victorian Government that did not reference Dan Andrews in fact attracted far more negativity. Negative sentiment went from 7% in 2019 to 24% in 2020, with positive sentiment shrinking from 19% to 15% in the same period.

3. Dan Andrews' presence in online discussions increased joy from 26% in 2019 to a remarkable 34% in 2020, despite what citizens were going through.
---
About the Author
Roger Christie
Roger Christie is the Founder & Managing Director of Propel – a multi award-winning consultancy that helps leaders and organisations build purposeful digital brands. For more than fifteen years, Roger has partnered with government, corporate and NGO ...